Its self gripping characteristics allow attachment to just about anything. Slipping your hand back into it, then removing it worn, allows for natural "cleanup" with no extra bits to hide.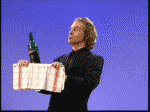 The only choice for HD and 4K video performance due to its astonishing realism including pores, veins, and real finger print. The seamless, non-reflective ultra thin elastic polymer rejects dirt yet allows for makeup application and manicuring. It can be compressed down to the size of a quarter yet springs into perfect shape instantly.

Magic and paranormal stunts:
Perform impromptu levitation effects and crazy stunts anywhere - anytime! This amazing prop lets you levitate just about anything including yourself.
It packs flat (even fits into your wallet) and is always ready. Be it in a restaurant, bar or big illusion show, Handz-Up will never fail to deliver what it promises: Mind blowing magic and top professional reliability. Handz-Up is THE killer gimmick and super easy to perform.

One more GIF:
A young Steve Sheraton levitates an entire chair. Fantastic stunt at any restaurant and sure to get you free desert or thrown out. Use your best judgement.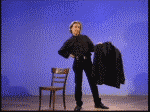 The story behind Handz-Up for paranormal stunts
---
Already the ancient Egyptians made use of false hands to free up a real one for all sorts of trickery. Impossibly ugly versions have been widely used for paranormal presentations, pickpocket...