AbraPick v.3.1 (PickaTrix)
for PocketPC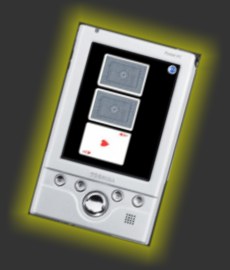 Telepathy? Nearly...! It's the world's first magic trick for the Pocket PC! Designed for the professional magician, this software application will not just fool but blow people away!
Now also available for your Windows machine. It's the highly decorated original magic trick for PalmOS from the successful series of Hottrix e-trix. AbraPick features professional size cards, and extensive manulas written by the expert magicians at Hottrix.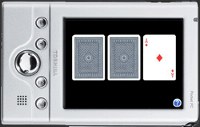 WHAT CAN YOU DO?
You will always know what card your audience thinks of. Even from across the room, wearing a blindfold without touching the device.
Works on someone else's Pocket PC, too!
Imagine the total amazement when you can name the card, that was picked on a stranger's Pocket PC without you ever looking at it.
Spectator can examine everything without discovering the clever secret!


YOUR PPC OR MINE?
If your Pocket PC supports infra red beaming you can

actually perform this miracle on you friend's or colleague's Pocket PC without ever touching it!
Imagine their total amazement when you read their minds with their very own Pocket PC without ever having looked at the device OR touched it!



NO TOUCHING, NO LOOKING, NO ASKING QUESTIONS
BIG, WELL READABLE CARDS FOR ALL DEVICES.

See the top ratings by the software critits:

THE ACT
3 face down cards can be picked and turned over just like with Video Poker. The cards are all different and are constantly shuffled.

Have your spectator play with the cards until he feels ready to pick one. You will know the name of the card without ever having looked at the device or touching it! And NO: You are not asking him questions either. You just know!

Repeat if you like: Results will always be different.
This is an absolute stunner and ready to amaze wherever you go!

UNDETECTABLE
Best of all: Should you stumble upon a very curious spectator who won't give your Pocket PC back after the trick: No problem. Let them fiddle with the cards: They are all different!
Examinable before, during and after the trick without discovering the clever secret!
BREAK THE ICE!
AbraPick is a great ice breaker wherever you go. Due to the nature of the effect it can be performed for just about anybody, anywhere, anytime.


LOOSEN UP...
...that sales meeting, jive up that presentation, relax that business lunch or finally talk to that really interesting person you hadn't previously dared contacting because you didn't know what to say.



MAGIC
is a well known communicative enhancer and our products are used by professionals from all walks of life. Medical professionals in need of trust building elements with patients, management staff and sales people using magic for motivational purposes and of course magicians, comedians and pranksters who get their hands on a handheld organizer for their official shows or their famed after-show happenings at the bar... Magic is our business. Try us!

"It's a miracle on my Palm Pilot. You can tell, that this was designed for professional magicians. Great!" (see testimonials page)

"The manual alone is worth the price of this application. PickaPalm works wonders and I warmly recommend it."
(see testimonials page)

"You guys are unbelievable - I'll make sure to praise
you on the palmgear and cnet websites! Thank you!!
Never be in the situation of not knowing what to say ever again. PickaPalm for your Palm Pilot is THE conversation piece and ice-breaker.
Just bought your PickaPalm for palm pilot...and it really is good. I've tried it on a dozen people and it works every time. Wonderful."
(see testimonials page)

"Excellent support and response from the author." (see testimonials page)
FEATURES
-No stooges or assistants needed
-You never look at the Palm.
-You never touch the Palm.
-You never ask questions!
-No timed events. Work at your own

pace!
-No infra red or beaming gadgets!
-No sequences to memorize!
-Different result every time!
-FREE updates for 1 year.
-FREE membership with Hottrix InfoXchange.
-FREE online support.
-Works on all Pocket PC or Palm OS PDAs
-Full color and monochrome enabled
-Comes with FREE AbraPick for Windows



THE SECRET
AbraPick makes use of a new magic principle utilizing the logics of your Pocket PC. It comes as a conventional Pocket PC Application and can be loaded onto your PDA like any other software. Of course we can't reveal the clever secret of this miracle right here.
The elaborate tutorial (25 pages) will teach you the secret and every aspect of this sensational effect plus give you many tips and hints about how to perform this illusion so you look your best.


NEW
On-board tutorial. The scaled down version of our award-winning tutorial can now be read right on your PDA.
BUY NOW - PERFORM TONIGHT!
Instant online delivery.
Detailed, illustrated tutorials with more than 18 pages of hot tips, tricks and step-by-step performing guidance (learn the trick in 1 minute). Full online and personal support and full warranties. Plus a FREE AbraPick for your Windows Machine!