AbraPick for Windows
v.1.62 (formerly PickaPalm)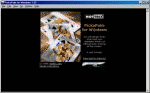 The demand for this sensational trick was beyond our wildest expectations and the common request from our customers was: I want to perform this miracle on my desktop, too. Well, here it is: Designed for the professional magician, this software application will not just fool but blow people's minds!

You will always know what card your audience thinks of. Even from across the room, wearing a blindfold without touching the device PC.
Works on someone else's computer, too!
Imagine the total amazement when you can name the card, that was picked on a stranger's PC without you ever looking at it.
Spectator can examine everything without discovering the clever secret!

Simply download free and install on your PC.
If you like it you can purchase the full version right here.
Comes complete with detailed illustrated manual, FREE version for PalmOS, updates for 1 year as well as access to our member zone for additional information, videos and online manuals.

Download free trial now! (secret not revealed)
Buy full version now! (secret, full version and 15 p. manual, instant download)
Here is what you get:
Comes with free version of PickaPalm for PalmOS.


Register now and get your PickaPalm for Palm FREE!
Works on any Windows compatible device (Windows 95 through 2000). Some functions require working Internet Browser (Internet Explorer 4.0 and up) for full functionality.
FREE AbraPick for Palm OS
with your purchase of AbraPick for Windows
Details about the effect are here...

BUY NOW - PERFORM TONIGHT!
Instant registration (no waiting)
Detailed, illustrated tutorials with 15 pages of hot tips, tricks and step-by-step performing guidance. Plus a FREE AbraPick for your PDA (Palm, Visor etc.)!

ORDER NOW - PERFORM TONIGHT
Special offer!
Add AbraMath Professional
for only $25.00 (29.95)