NerdAlert v.1.62


Make your phone ring to get out of boring meetings. Magicians: Use it to receive a call revealing the selected card...
Now also available for iPhone and iPod touch

Simulate phone calls, SMS and Datebook alarms instantly or timed to get out of ugly situations. Run away from that boring talk or hang up that phone because you just "received" this really important call...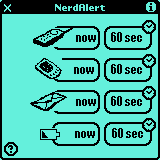 Why is it, that whenever you're trapped by a nerd there seems to be no polite and guilt-free way out? How many times did you wish your phone would ring so you'd have an excuse to terminate a conversation? Once more your PDA and Hottrix come to rescue!


Now you can stop nerds dead in their tracks and trigger phone calls, PalmOS-Alarms or LowBattery-Beeps at the touch of a button!
Timed or instantly.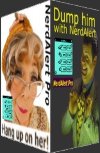 Loud and authentic sounds
Phone, SMS/Message, DateBook, Low Battery
Very discreet (1 button access)
Timed or instant
Multiple Trigger!
Security lock!
Phantom Button.
Operates with one hand.
Quick Escape (Panic Button)
FREE online support
FREE full warranty
Immediate Download


Works on any PalmOS device. Download your FREE evaluation copy now and try it today. You won't believe how you could have lived without it! Details...>>
MAGIC TRICKS:


>What about not being able to guess your spectator's card when unexpectedly Dai Vernon, Houdini or Harry Potter calls you on your mobile. Of course he knows the card...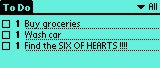 >Or: Your Palm DateBook-Alarm goes off and without touching the PDA have the spectator read the entry: Today: Find the six of hearts...
BUTTONS:
Phone: Fakes generic mobile or cordless phone.
PDA: Realistic Datebook Alarm of PalmOS.
Letter: Mobile phone Message (SMS).
Battery: Low battery on mobile phone.
?: Basic instructions
X: Closes NerdAlert
i: Detailed Instructions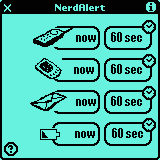 MENU:
Start: The main interface
Stop: Closes NerdAlert
How to: Basic instructions (use the i for details)
Register: Registration info to unlock features.
Sponsor: Turn NerdAlert into your business gift.
Hottrix: About us.
Exit: Closes NerdAlert


"NerdAlert has helped me tremendously reducing the "guilt factor" in terminating an uncomfortable situation. It's amazing how people accept an electronic sound as an undisputable end-of-story signal".
Harry Rosenthal, Lawyer, NY

PROFESSIONAL FEATURES: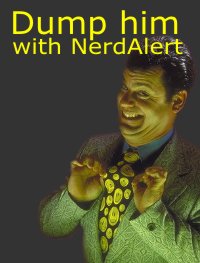 MULTIPLE TRIGGER:
Clicking a button multiple times will trigger the sound as many times as you clicked.This is great to drive people nuts over a long time...


SECURITY LOCK:
Once a timer button is triggered your PDA is fully armed and protected.

Pressing any other button will have no effect so as not to screw up you "call".

Put your PDA in a pocket next to your mobile phone and don't worry about accidental triggers.

PHANTOM BUTTON:
Pressing any button after triggering a NerdAlert sound (timed or not) will put that event next in line. Once the sounds are over the respective button will be pressed for you. This way your DateBook can show up right after the "phone" rang or your PDA switches itself off to look totally unsuspicious.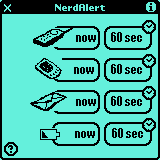 ONE HANDED OPERATION:
The smart interface layout allows you to operate NerdAlert with one hand (holding and triggering) only. This guarantees perfect access and no fondling.


QUICK ESCAPE:
Most of the top bar (except the i sign) activates intant exit of NerdAlert and returns you to your Home Desktop. A very unique feature because normally a Palm application can only be closed by pressing another application button (which disables the one handed philosophy).

YOUR NERDALERT:
Find out more about this wacky cyber gag and how to put your enterprise's name right on your customer's Palm by having us customize it with your name and logo.
Need an original business card or convention give-away?
NerdAlert will make your company the talk of the town.

TRY NOW - FREE EVALUATION DOWNLOAD!
Limited timer functions and nag screen.
Palm: NerdAlert Trial zip (Windows)
Palm: NerdAlert Trial sit (Mac)
PPC: NerdAlert Trial exe
BUY NOW - STOP NERDS GUILT-FREE TODAY!
Instant download (no waiting)
Detailed step-by-step guidance on board to learn on the go.
Realistic sounds and
one-handed operation for ultimate discretion!