AbraMath v.1.62

After the incredible success of the world's first magic trick for the PalmOS (AbraPick) we are happy to once more help you amaze your friends with a sensational PDA illusion. See for yourself, how AbraMath Pro and AbraMath Quick'n'Easy will blow your spectators away and give you the opportunity to perform amazing magic with your Palm Pilot anywhere - anytime!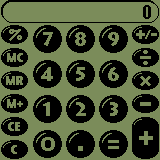 WHAT CAN YOU DO?
You are able to predict any Palm Pilot calculation made by your spectators. No matter how many additions, subtractions, multiplications etc. were made, you will know the result without EVER looking at the device or touching it (Quick'n'Easy version).
Results will always be different so you can repeat the effect over and over again!
Magic at its finest!



SENSATIONAL!
Remember the amazing Telepathy trick by Korinda?
The magician hands a pad and a pen to the audience and has them add up numbers at random.


An audience member totals the impossible equation and the magician "reads his mind" or opens a prediction envelope that contains the exact same number.

Hottrix moved this sensational trick into the new millennium and added some features!

You will use the built-in calculator that comes with your PDA organizer instead of a pad and here comes the killer: YOU WILL NEVER TOUCH THE DEVICE or look at it to know the result!





THE ACT
Hand a sealed envelope to a lady in the audience and have her hold it up in plain sight. It contains a prediction and may not be touched by anybody (especially you!) during the course of this stunning effect.



Hand your Palm Pilot to anybody and ask them to start the calculator. Have them enter any number (as many digits as they want) and press any of the operator keys (+,-,/,*) and pass the Palm to anybody else of their free choice. This goes on for as long as you wish...

The last person totals the wild eqation.
Have the envelope (which was untouched by you all the time) opened by the lady and have her read out your prediction.

It's the same number!


FUN STUFF WITH ABRAMATH
Bon Appetit:
A little comedy routine: After dinner wipe your mouth like crazy on your napkin an deposit it somewhere visible and safe. Exclaim, that you have just performed a miracle?
Later on it turns out, that the calculated number is written with spaghetti sauce on your napkin?(For added comfort and fun hand a pair of rubber gloves to the person who has to open the napkin?).

Cheap Date:
Predetermine a good price for lunch on your AbraMath and have your waiter use the Palm for the final bill?

Happy Birthday:
At a birthday party have all the guests add up numbers. The host (or whoever's birthday it is) gets to declare the result (either on AbraMath or via prediction envelope). The number corresponds to their birth date and year. As an added "surprise" the number could be backwards so the result seems more like a strange coincidence, than a prearrangement.

Got a dollar?
Use the serial number on a borrowed dollar bill for the prediction number.

Bar Code anyone?
Explain the "logic" of the bar code on a package. Have them add ridiculous pseudo-facts of a product resulting in the number on the bar code. (Pack of cookies: 30 cookies * 5000 calories - 7 hours of digestion + 24 teeth etc. = Bar Code)

Phone Tag:
Have the final calculated number (controlled by you) dialed as a phone number. The called number could be a prepared friend of yours who pretends to be a stranger who by your phone-force can declare the full name of the host of the party. Or it can be an answering machine revealing a "freely selected" card?(Use our AbraPick for PalmOS trick!).

Hitch Hike:
"The prediction is on your car!". Use the license plate number of one of your audience members.


This and much more is possible with AbraMath.
A small piece of software for a great deal of fun.

Order now!

BREAK THE ICE!
AbraMath is a great ice breaker wherever you go. Due to the nature of the effect it can be performed for just about anybody, anywhere, anytime.


LOOSEN UP...
...that sales meeting, jive up that presentation, relax that business lunch or finally talk to that really interesting person you hadn't previously dared contacting because you didn't know what to say.



MAGIC
is a well known communicative enhancer and our products are used by professionals from all walks of life. Medical professionals in need of trust building elements with patients, management staff and sales people using magic for motivational purposes and of course magicians, comedians and pranksters who get their hands on a Palm for their official shows or their famed after-show happenings at the bar... Magic is our business. Try us!

"AbraMath will greatly aid you in entertaining people, creating conversation topics and improving your communication skills.
Most important however: It's great fun and will blow them away!" Dr. P. Werthemann M.D

FEATURES
-No stooges or assistants needed
-You never look at the Palm.
-You never touch the Palm (version QnE)
-No timed events. Work at your own pace!
-No infra red or beaming gadgets!
-Different result every time!
-Use as many people and numbers as you want!
-Equals button always shows correct result!
-Predict numbers from another room!
-Repeat the effect immediately without hesitation!
-Perfom on stranger's Palm (Pro version only).


-Predict phone numbers, birth dates etc.
-Fully configurable (Pro-Version only).
-FREE updates for 1 year.
-FREE additional icons on your PDA (Pro)
-FREE membership with Hottrix InfoXchange.
-FREE online support.
-Works on all Palm OS PDAs
-Palm Pilot , Handspring Visor, IBM WorkPad etc.



THE SECRET
AbraMath makes use of the famous built-in calculator of your Palm Pilot. It comes as a conventional Palm Application and can be loaded onto your PDA like any other software. Of course we

can't reveal the clever secret of this miracle right here.
The elaborate tutorial (26 pages) will teach you the secret and every aspect of this sensational effect plus give you many tips and hints about how to perform this illusion so you look your best.


PRO VERSION vs. QUICK'N'EASY VERSION



AbraMath Quick'n'Easy is a simplified version of AbraMath Professional.
It differs in the following functions:
- No touching necessary (never look OR touch!!!)
- Memory carry over to native Palm Calculator
- Easier set-up
- Smaller Size (15K only)
-Works as a normal Calculator, too!
- Not beamable
- Perform immediately after download!
For the relaxed performer who focuses on the appearance of an effect and dislikes technical frills.


GET BOTH VERSIONS AND SAVE $10

AbraMath Professional is different in the following ways:
- Beamable (Perform on stranger's Palm)
- Define number keys (for wild crazy button effects)
- Multiple memories (Control every displayed sub-sum)
- Full control over nearly EVERY button
- Bigger size
- Unlimited Database Memories
-Includes FREE AbraMath Quick'n'Easy (SAVE $10)
For the tough professional who likes lots of options.

- If you want to be set for every situation and plan on making use of AbraMath to its full potential you should consider the Pro-Version (it includes a FREE Quick'n'Easy version).
- If you use magic occasionally and want a quick killer without thinking about it too much go for the Quick'n'Easy version!


BUY NOW - PERFORM TONIGHT!
Instant registration (no waiting)
Detailed, illustrated tutorials with more than 25 pages of hot tips, tricks and step-by-step performing guidance.
Please Note:
AbraMath looks and behaves like the classical PalmOS calculator. If you have a Visor or Clie your calculator looks different. However the trick will still work perfectly.


ORDER NOW - PERFORM TONIGHT

Special offer!
Add AbraMath Professional
for only $10.00 (29.95)


ORDER NOW - PERFORM TONIGHT

Special offer!
Add AbraPick
for only $15.00 (19.95)